Welcome to Alderman Pounder Infant & Nursery School
We are delighted to be able to share with you our vision and values to help you get a true flavour of our school. We are confident that you will find us a welcoming school – one where your child will flourish and realise their potential, whatever that potential might be. We value getting to know all our children. This means we have a better idea of what motivates them and what success should look like for them.
We are committed to providing our children with the very best opportunities and experiences, and we are proud of the relationships that we have with our children, parents and the community. In partnership, we want to provide an outstanding education for the children at Alderman Pounder, to ensure they are well equipped to be confident individuals, lifelong learners and good citizens.
At Alderman Pounder we believe that all children have the ability to achieve wonderful things. Our aim is to ensure that our children are happy and enjoy their time at school. This is achieved by providing an environment where children feel safe to explore the new challenges and learning opportunities they encounter.
All our staff are passionate about making children happy, developing their confidence and inspiring them to be successful. This passion ensures that Alderman Pounder is a vibrant and creative place to be. We aim to help develop creative children who are inspired learners, are considerate citizens, are independent thinkers, have curious and enquiring minds and are caring friends.
We care about every child in our school. Through our strong commitment to pastoral care we strive to ensure that we provide outstanding support for all of our pupils and families. Alderman Pounder prides itself on supporting all children, regardless of their background or additional circumstances. We believe that a child's potential should not be limited or pre-determined.
Due to the restrictions in place at the moment it is not possible to have parents physically in school to see who we are. We hope this slideshow will help to give you a flavour of who we are and what we do. If you have any questions at all please do not hesitate to get in touch and we will do our best to answer them. This is an important decision you have to make regarding your child's education, and we want to do everything we can to help you make the right decision.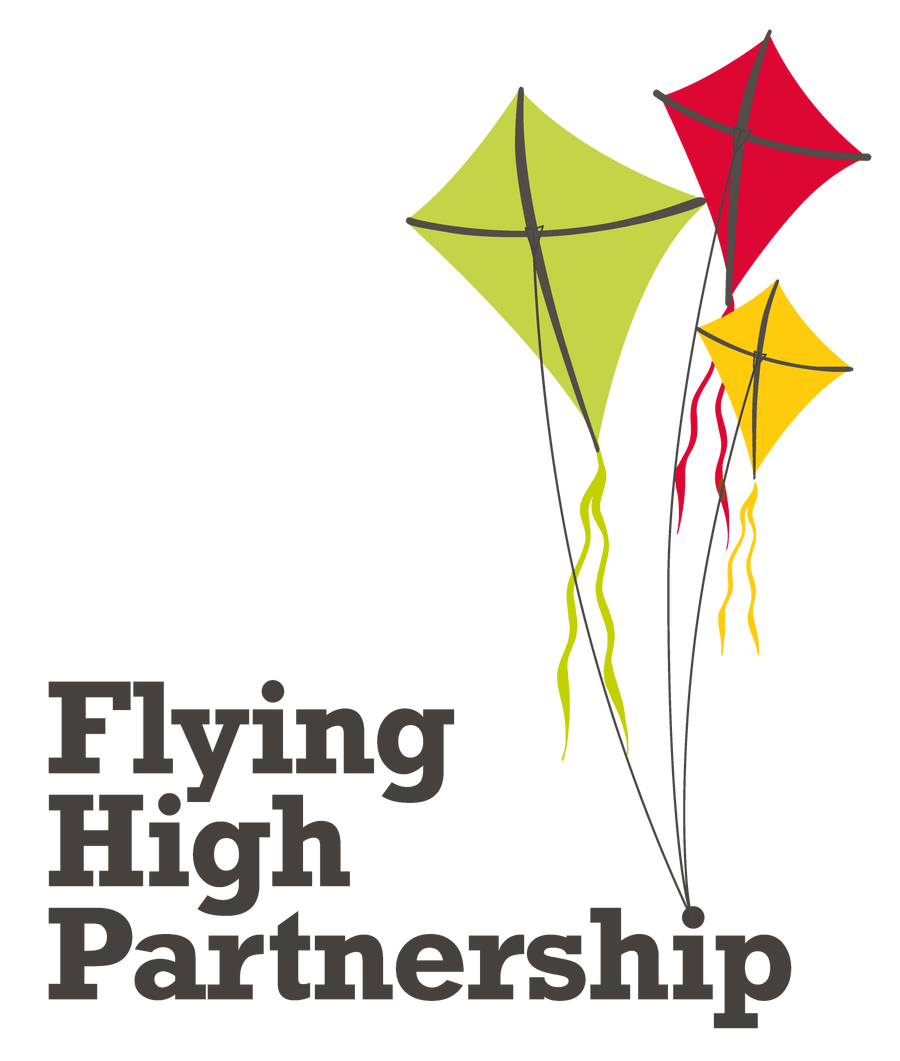 Flying High Partnership
The Flying High Trust is a partnership of schools across Nottinghamshire, Nottingham City and Derbyshire. Schools work together to ensure we are relentless in ensuring our children receive the best possible opportunities and experiences. This is achieved through a true collaboration where all decisions centre on children and schools are empowered to adopt best practice, adapt it within the context of each school and fly!
WHAT IT MEANS TO BE PART OF THE FLYING HIGH PARTNERSHIP – a message from our CEO
We aim for our schools to be the best in the universe!
By the end of their primary education we aim for all of our children to be ready for secondary school and be inspired to be the best they can be through our seven values. The values are fundamental to everything the Trust represents; they run through all elements of school improvement and are understood and owned by all members of the school community. Schools with their own clear USP (unique selling point) linked to their values blend together the Trust values with those held so dear within each individual school.
As a Trust Partnership our expectation is that all schools:
Demonstrate a restlessness to continually improve, to never stand still, with the ultimate aim of providing the best opportunities and experiences for our children

Strive to ensure every child fulfils their potential regardless of potential barriers to learning

Commit to become an outstanding, self-improving school and to support the profession

Development of all schools within the partnership

Commit to a school-led system

Commit to the values, principles, policies and procedures of the Trust

To ultimately strive to be the best school in the Universe
In our schools you will see we work together to:
Ensure schools feel connected to the Trust whilst maintaining their unique qualities, character and relationship with their community

Ensure high quality teaching and learning

Engage with our families and wider communities to raise aspiration for all

Develop the whole child and create inquisitive learners

Enable all children to be confident, building on strengths and improving in areas of need

Enable children to understand the part they play in the world in the future - as a positive citizen and a driver of business and enterprise

Support the development of all staff to be the best they can be and to realise their career potential
What you need to know when applying for a place
Before you apply for your child's school place at Alderman Pounder for September 2021, please make sure that your child is the right age – meaning they were born between 1 September 2016 and 31 August 2017 inclusive.

If you apply online or using a paper form, you will be asked to pick four schools in order of preference.

One of these schools should be your catchment school, although it does not have to be your top choice.

The closing date for primary school applications in England is 15th January 2021.

You will then find out whether your child has a place with us on 16th April 2021.
Admissions
Primary School Admissions Timetable for entry into 2021 - 2022
Applications open for applications for places at our school on Monday 9 November 2020.
| | |
| --- | --- |
| National closing date for on-time applications | Thursday 15 January 2021 |
| National offer date for all Infant/Junior and Primary Schools | Friday 16 April 2021 |
| Independent appeals heard | June/July 2021 |
Admission Arrangements
Applications for places at our school are managed by Nottinghamshire County Council; the school does not deal with places directly. The school converted to an academy on 1st September 2018, joining The Flying High Trust Partnership, and will therefore be responsible for processing admission appeals only using the FHP Admission Appeals Form.
Please visit Nottinghamshire County Council website to review the process on how to apply for a school place, including confirmation of the school catchment area, important key dates and the Admissions Policy. Paper copies of application forms can be obtained by telephoning the Admissions Department on 0300 500 8080 or emailing admissions.ed@nottscc.gov.uk.
Admission Appeals and Coronavirus (Covid-19) update 30/04/2020
Unfortunately the coronavirus outbreak has impacted on the ability of schools and panels to carry out admission appeals in the usual way and therefore there may be some unavoidable delays to the commencement to appeals being held across the country. However, as parents/families must continue to have the right to appeal to any school which has refused their child a place, the Government announced regulatory changes on the 24th April 2020 to the Admissions Appeals Code which will enable hearings to take place, although it is unlikely these will be in person due to social distancing requirements.
Your appeal, once submitted, will be forwarded to the Independent Clerk, who is currently planning again for the commencement of the appeal hearings. He will be in touch with you as soon as possible once a date has been agreed for the hearing to take place. We do fully recognise the frustration this may cause but these are unprecedented times and trust you fully understand this. Each appeal should continue to be sent to info@flyinghightrust.co.uk and you will receive acknowledgment that the appeal has been received, update on the situation and contact details for the appeals clerk who will manage your appeal and keep you informed of progress, date and outcomes.
Assuring you of our best attention at all times. Please see important dates in the table above.
Infant class size appeals
Infant classes must not contain more than 30 pupils with a single school teacher. When an infant class has already reached the legal limit of 30, appeal panels can only offer a place in very limited circumstances.
Induction
Following a brief induction meeting for parents towards the end of June, we provide an induction programme in the summer term for our new Foundation Stage children and their parents. Induction packs provide information about what happens in school and includes a number of forms for parents to complete and sign. New children start school full time after the summer holidays. If you think your child may take a while to settle, then a part time timetable can be discussed with a view to building to full time very quickly.
New children settle very quickly at our school; we encourage independence from the start but are also mindful that some need a little more time to get used to routines.
Those children, who join us part way through the year may start school on an agreed date which is negotiated with the school.
We have an admission limit of 70 children per year group, with 3 year groups, giving a maximum number on roll of 210 children. This does not include the Seedlings Nursery.
Please contact the school office on 0115 9252928 for further information.
Click here to read our current In Year Admissions Policy 2021/22
Click here to read our Admission Arrangements / Policy for 2022/2023